Ten years ago, on 13 July 2013, Fondazione Triulza was born with the aim of participating in EXPO Milano 2015 and managing the first Civil Society Pavilion in the history of Universal Expositions: Cascina Triulza. For the first time in Italy, a group of NGOs and organizations from the no-profit sector, with objectives and activities in very different fields, decided to invest resources and energy to build a project together and participate as main characters in Expo 2015. The project was "EXPlOding Energies to Change the World" and it was shared and supported by philanthropic entities such as the Fondazione Cariplo, other civil society realities and several profit companies, local bodies and public institutions.
Participating in this unique experience made Fondazione Triulza and its network of founders and partners more resilient and innovative, able to respond to new challenges, work on new insights and relationships to carry out to new projects with a positive impact on people, communities and territories.
The legacy of the experience at the Expo needed to be enhanced: for this reason, after the Exposition, together with our network of 70 organizations, we chose to remain united to work together again in MIND Milano Innovation District. We stayed together to continue to create innovative projects with social impact, according to the principles that had always shaped our identity: sustainable development, social innovation, community involvement, care for younger generations, inclusion, participation and active citizenship.
All this led Fondazione Triulza to set up pioneering initiatives which have accredited us as one of the reference players in Italy and also in Europe (we have just been recognized as an EU Cluster of the social economy) in the promotion of social innovation in the Third Sector and in MIND Milano Innovation District, the new Milanese district that is a laboratory of innovation and a paradigm of the cities of the future.
The Video: from EXPO Milano 2015 to MIND Milano Innovation District
In this video, Sabina Siniscalchi and Sergio Silvotti (ex-vice-president and ex-president of Fondazione Triulza), with our President Massimo Minelli, tell the main steps and goals of the Fondazione. The video is available at this link: https://youtu.be/09ElcaenEjQ
The Podcast: the Social Innovation Academy in MIND
The podcast of "Produzioni dal Basso" delves into one of the most important initiatives of Fondazione Triulza and its network of founders and partners: the Social Innovation Academy. Operating in MIND since 2018, the Academy focuses on social innovation and on the promotion of a new model of social economy, creating strategic initiatives such as the Social Innovation Campus – involving thousands of young people every year – and initiatives of Capacity Building and technology transfer for cooperatives and social-tech enterprises. The Social Innovation Academy is a laboratory that enhances the contamination between knowledge inside and outside MIND, a space of co-planning and collaboration for all: Third Sector, Civil Economy, Philanthropic Bodies, Universities and Research Centres, Public Institutions, Finance, Companies to encourage collaboration on innovation and social impact between profit and non-profit companies and between public and private sector.
Mario Calderini, professor at the Polytechinc of Milan, member of the Board of Directors of Fondazione Triulza and President of the Scientific Committee of the Social Innovation Academy, and Chiara Pennasi, Director of the Fondazione Triulza, talk about the Academy in this episode of the podcast: https:/ /bit.ly/aepxmind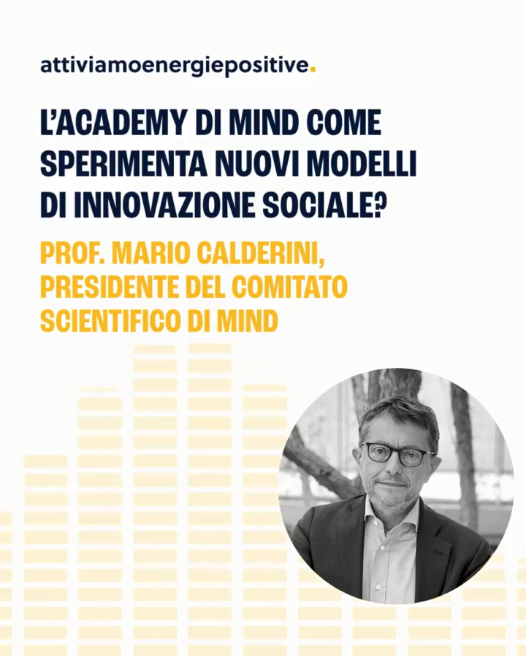 The numbers of EXPO Milano 2015
The numbers clearly tell the impact and the success of our work during EXPO:
63,000 ACTIVE PARTICIPANTS IN THE EVENTS
35,500 CHILDREN AND YOUNG PEOPLE INVOLVED IN DEDICATED ACTIVITIES
1,600,000 VISITORS TO THE PAVILION
35,000 MOBILITY CENTER AND EXPO-FACILE DESK USERS
30,000 KG OF FOOD RECOVERED WITH THE FOOD BANK
OVER 800 EVENTS ORGANIZED AND PROMOTED WITH THE INVOLVEMENT OF:
208 THIRD SECTOR AND CIVIL ECONOMY ORGANIZATIONS
450 MUNICIPALITIES PRESENT WITH EVENTS AND PRODUCERS
203 INTERNATIONAL COMPANIES, PRODUCERS AND ARTISANS
3,000 ARTISTS
Numbers and activities after Expo
From 2016 to 2022, Fondazione Triulza invested 4.5 million euros in activities in MIND for the realization of over 207 initiatives, which have involved 58,000 people, of which more than half were young people, and accompanied 53 social tech companies, both startups and scale up.
Here some of our most innovative and pioneering projects and initiatives on the MIND site, which made it the first international innovation district with the active presence of Civil Society:
• 1st project to connect Research & Civil Society: Human Factory (2016-2017)
• 1st initiative to bring students and recent graduates to the area: BEEurope Master for the no-profit Sector (since 2017)
• 1st project to involve citizens on the legacy of Expo and innovation of the future MIND district: E…State in Cascina (2016-2017)
• 1st trial of reuse of public assets after a major event: Tender for the reuse of assets in Expo Milano (2016-2017)
• 1st reality to characterize the future innovation district with the themes of social innovation: Social Innovation Academy (since 2018)
• 1st elaboration of scenarios to involve the Third Sector, Territories and Citizens in all phases of MIND development: 10 tables for 100 years of sustainable development (2018)
• 1st experimentation of co-design paths on the MIND development project with the involvement of students, schools and new generations: A City in MIND primary and middle school contest (since 2018) and Social Innovation Campus (since 2020)